Gurtner, specialist of gas equipment
Welcome by Gurtner, specialist of gas equipment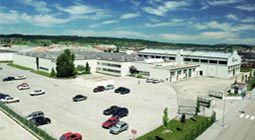 After almost a century of development in carburettors for motorcycles, Gurtner refocuses its expertise in regulation and dosing of gas.
Gurtner is today recognized for its expertise in pressure and regulation of domestic, industrial and automotive gas.
Gurtner offers safety and innovation at the heart of its priorities towards its customers
Gurtner offers to its customers a large range of solutions in the fields of domestic and industrial gas regulators, valves, fittings and flexible. Its offer is flexible and adaptable according to customers' needs and makes from Gurtner your partner for all specific needs.
Gurtners' offers, includes Service with all its logistics and marketing stills, that will make your relationship with Gurtner a winning and evolving offer.
Its mains markets activities:
Domestic, networks and industrial gas manufacturers equipment: natural gas, propane, butane, LPG, with risers, PLT, regulator, gas change-over; gas box, others various equipment
Gas mobility equipment: reducers and products for LPG vehicles
Automotive equipment: dosing pump for OEM, carburettors…